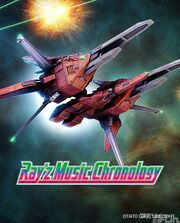 Ray'z Music Chronology is a boxset compilation of Ray Series soundtrack slated for release in October 12th 2017.[1]
Description
Edit
The boxset consists of 10 discs (plus one Famitsu DX exclusive disc) consisting of the original (both game and album versions) and rearranged soundtracks from console and mobile ports of RayForce, RayStorm, RayCrisis and extra tracks from RayStorm location test version and Pocket Ray [2]. A booklet containing interview with the developer staff is included within the set. Boxset cover art is drawn by RayStorm's mechanics designer, Atsushi Iwata.
Ray'z Music Chronology is sold as three different sets. The regular set costs ¥9,800 while the Famitsu Limited DX Pack containing exclusive OST and signed color paper costs ¥11,852 and the Limited 3D Crystal Set costs ¥14,630. All three sets can be preordered from Amazon.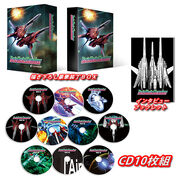 Regular Set
Edit
Disc 1: RayForce (Sega Saturn version)
Disc 2: RayForce (Arcade version)
Disc 3: RayForce -Rubbing Beat- (Remixed version)
Disc 4: RayStorm (Album version)
Disc 5: RayStorm (Arcade version), RayStorm -NEU TANZ- Remix long version part 1
Disc 6: RayStorm -NEU TANZ- Remix long version part 2
Disc 7: RayCrisis (Album version)
Disc 8: RayCrisis (Arcade version)
Disc 9: RayCrisis rayons de l'Air (Remixed version)
Disc 10: RayStorm (location test version), additional tracks from RayCrisis PSX version, Pocket Ray, ZUNTATA arranged tracks from each mobile port (one track per game) and arranged soundtrack from BETTA FLASH
Interview booklet
Famitsu Limited DX Set
Edit
Ray'z Music Chronology
Disc 11: Original soundtracks exclusive for the Famitsu DX Pack.
Folding fan
Colored paper/shikishi signed by ZUNTATA team members
Limited 3D Crystal Set
Edit
Famitsu Limited DX Set
A R-Gray 3D stereoscopic laser engraved crystal cube set with a LED light stand
References
Edit